Founder

..Victoria "Viva" Williams is the founder of Soulher Power LLC., in Tampa, Florida where her mission is to share light among free thinkers who have a common love for art and dance culture. She is a certified dance fitness educator, performance artist and a local event organizer. Viva is a 200hr certified kemetic yoga instructor AND co-founder of Be Dope Do Yoga with a message to create more unity in the community. Fusing her dance experience with traditional African healing, Victoria brings a unique and enticing style to dance and yoga fitness.
Soulher Power ignites passionate young girls and women through dance and yoga fitness as a reminder the power is in your heart.
---
The mission

It is Soulher Power's mission to give creative individuals everywhere self-confidence through dance fitness, innovative projects and partnerships. We promote freedom in ones physical and emotional state through the art of dance and yoga Fitness. Combining dance fitness with yoga helps improve self-confidence, Lifestyle and spiritual connection.

​"I

am thankful to be multi-talented as it gives me the means to help different people with different needs. It flows through me to encourage the power of others. I am here to serve." -With Love.
Powered by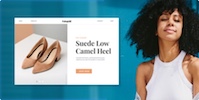 Create your own unique website with customizable templates.